Photo Credit: Giovanni D'Anca
I had the pleasure of being interviewed this morning on the Mike Nowak radio show to discuss the upcoming Veg Fest on April 16th.  Joan Levin (co-organizer of Plant Based Nutrition for Life) also joined the conversation.
If you are interested in learning more about plant based nutrition and it's benefits, this event is for you!  It's an all vegan event with vegan recipes, vegan food, the benefits of a vegan diet presentation from Dr. Terry Mason and fabulous exhibits.  Tickets are $5.00 in advance and children under 12 years of age are free.  Here's the link for registering.
The article below is from the radio's website.  You can visit their page here. 
Welcome to the first annual VegFest
While I was broadcasting at the Good Food Festival & Conference this year, I was introduced to the First Annual Northshore Veg Fest, sponsored by Plant Based Nutrition for Life and Food not Meds.
VegFest features keynote speaker Dr. Terry Mason, COO of  the Cook County Board of Health and a proponent of living healthfully with a plant based diet.  The deliberately modest event takes place on Saturday, April 16 from 11am to 2pm in the Forum Room at National Louis University, 5202 Old Orchard Road in Skokie.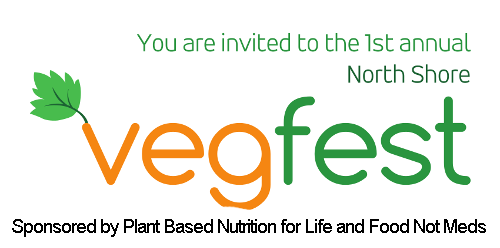 Carol A. D'Anca from Food Not Meds joins me this morning to talk about the fest and her particular mission, which is to raise nutritional awareness, inspire dietary change, and improve the health of the nation. She notes that
My mission…is closely connected to Veg Fest in a way that raises nutritional awareness and inspires change.  I educate through public speaking, teaching plant based food classes, community outreach and nutritional counseling. I've also been known to take groups to the south of Italy where my family or origin lives and show them the lifestyle, the gardens and the unprocessed food that is the staple of their diet.
Which means that my new mission is to figure out how to have Carol take me to Italy. I'll let you know how that goes.